Dr Joanna- Whitening Skincare Set ( Conquer Darkness/ Anti spot ) 改善常熬夜,暗淡无光
熬夜,肌肤暗淡无光 一套后 say Bye Bye !
美白洁面乳
美白成分配合清洁成分,不仅洗净彩妆和污垢,更带美白洁 颜功效,引领肌肤进入一个清新体验
成分:水、甘油、月桂醇聚醚硫酸酯钠、肉豆蔻酸、月桂酸、椰 油酰两性基二乙酸二钠、氢氧化钾、硬脂酸、椰油酰胺MEA、 乙二醇二硬脂酸酯、椰油酰胺DEA、丙烯酸酯)类共聚物、 甘油硬脂酸酯、烟酰胺、椰油酰甘氨酸钾、苯氧乙醇、香精、 麦芽寡糖葡糖苷、羟苯甲酯、尿囊素、羟丙基甲基纤维素、椰 油酸钾、氢化淀粉水解物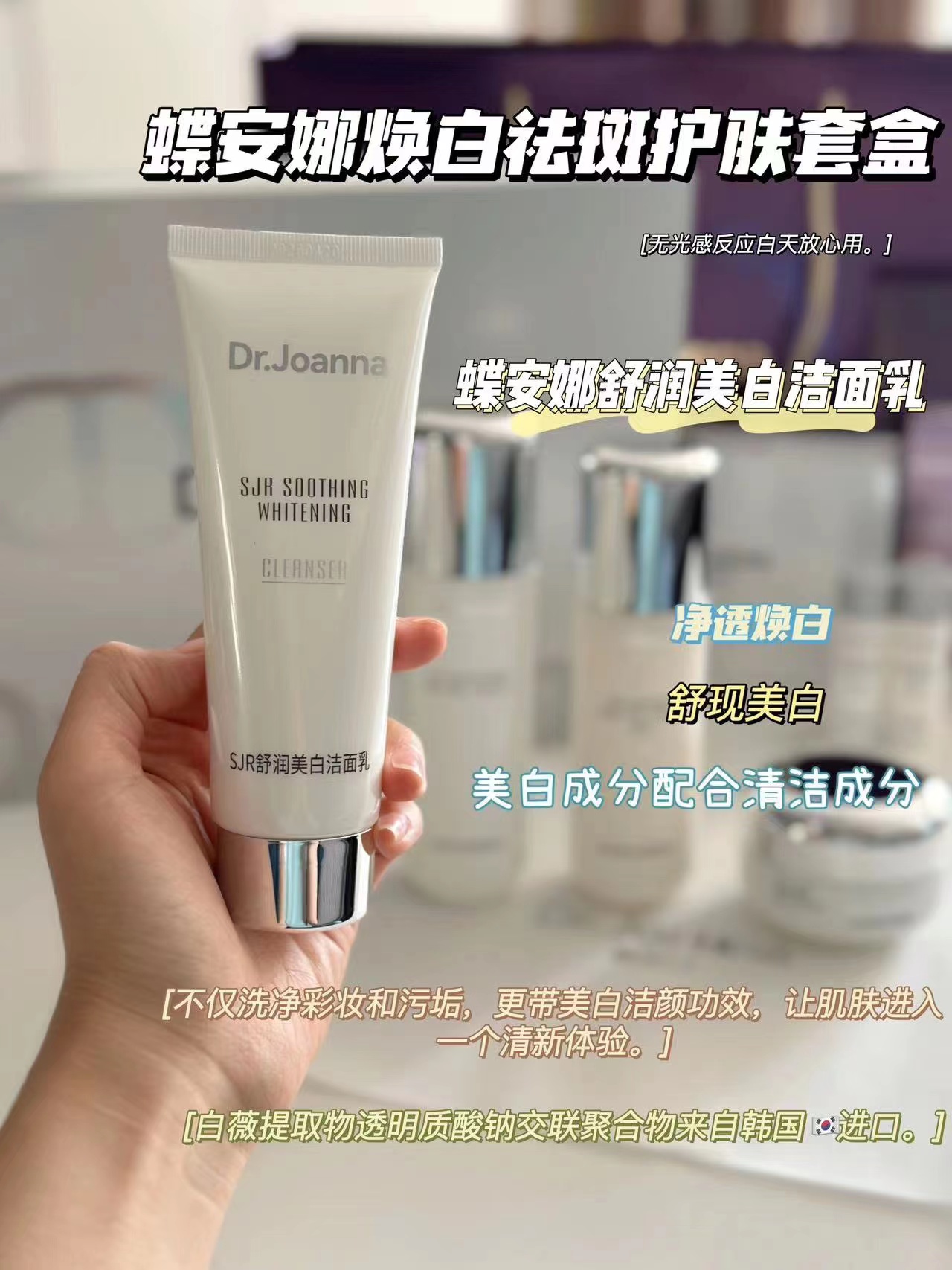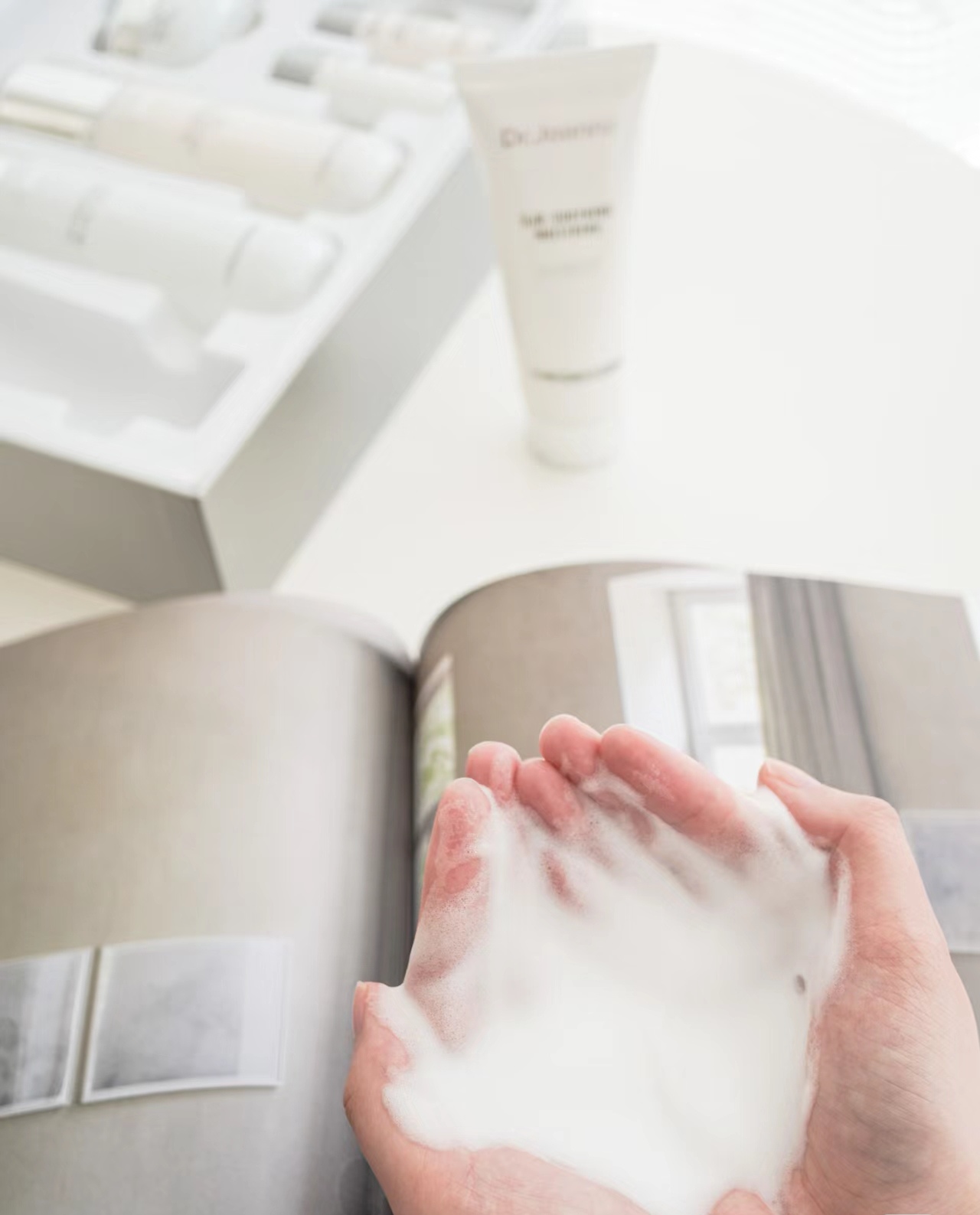 其他微量成分:北美金缕梅(HAMAMELIS VIRGINIANA)提 取物、白薇(CYNANCHUM ATRATUM)提取物、长柔毛薯蓣 (DIOSCOREA VILLOSA)根提取物、茯苓(PORIA COCOS)提物、人参(PANAX GINSENG)根提取物、地黄 (REHMANINNIA CHINENSIS)根提取物、β-葡聚糖、甘草酸
SJR Soothing Whitening Cleanser
*Whitening ingredients combined with cleansing ingredients not only wash away makeup and dirt, but also have whitening and cleansing effects, leading the skin into a fresh experience.
INGREDIENTS: Water, Glycerin, Sodium Laureth Sulfate, Myristic Acid, Lauric Acid, Disodium Cocoamphodiacetate, Potassium Hydroxide, Stearic Acid, Cocamide MEA, Glycol Distearyl Ester, cocamide DEA, acrylate) copolymer, glyceryl stearate, niacinamide, potassium cocoyl glycinate, phenoxyethanol, flavor, maltooligosaccharide glucoside, methylparaben, allantoin , Hydroxypropyl Methyl Cellulose, Potassium Cocoate, Hydrogenated Starch Hydrolyzate.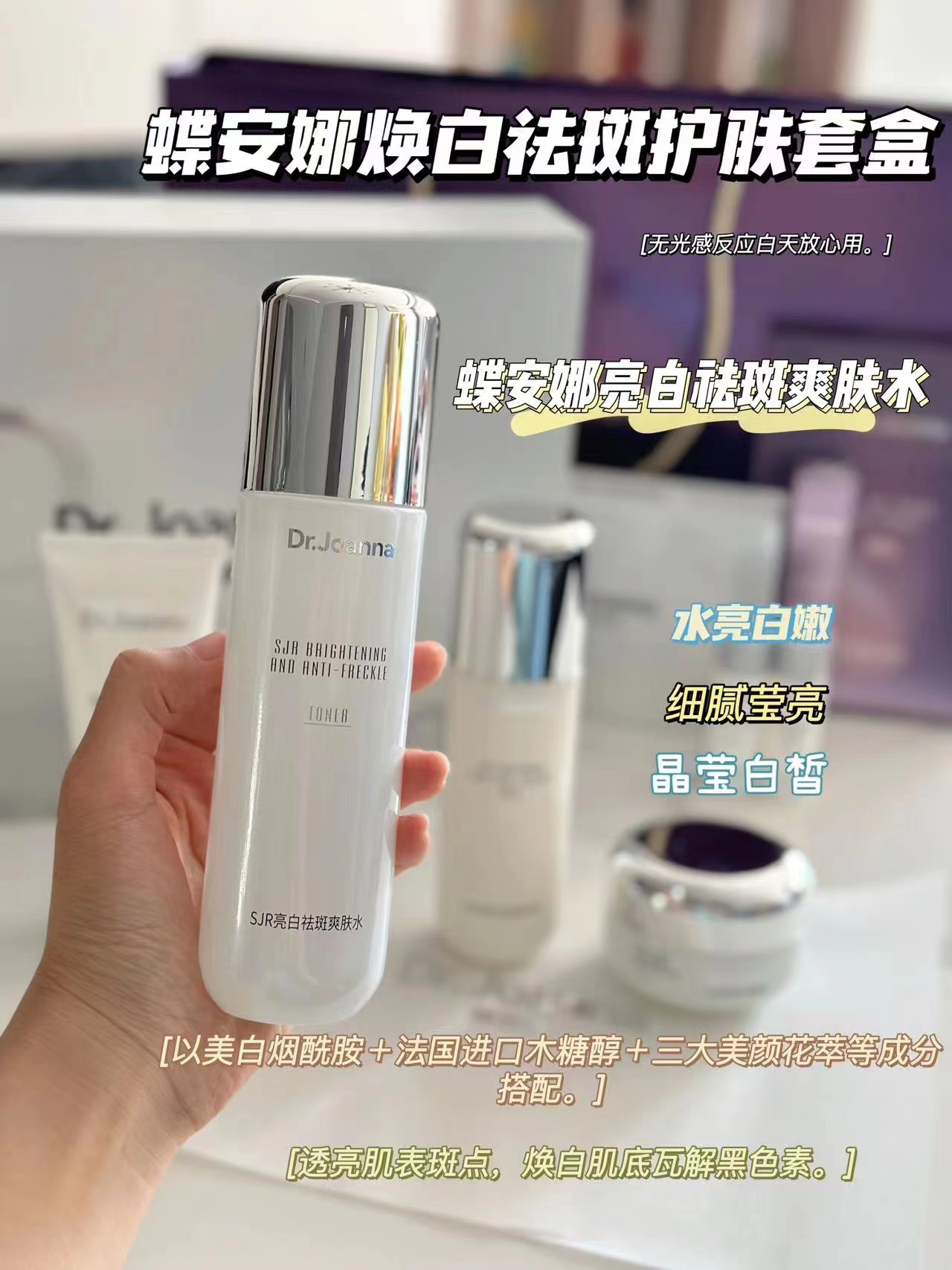 Brightening and Freckle Removing Toner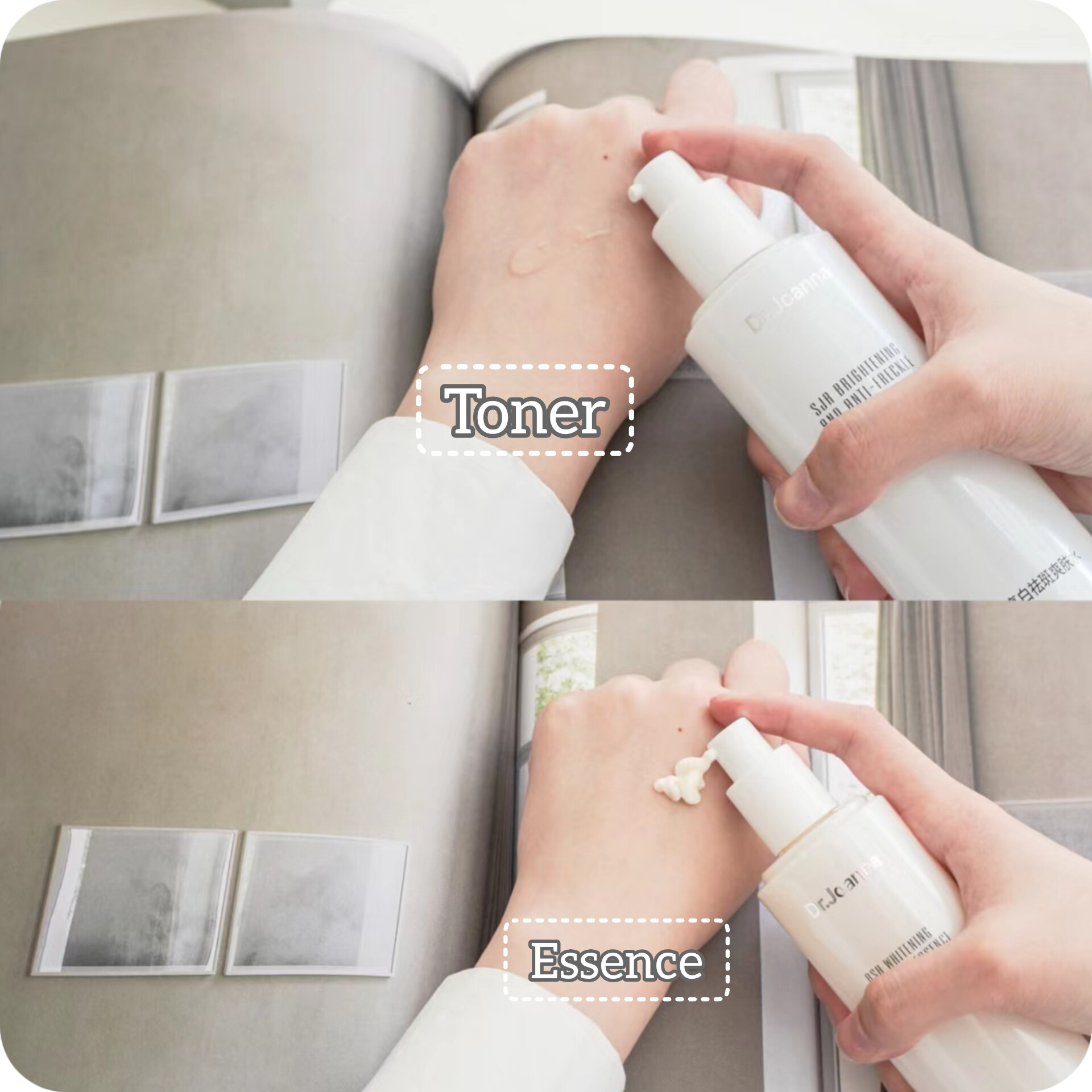 Combining ingredients such as whitening niacinamide + xylitol imported from France + three beauty flower extracts, it can brighten the spots on the skin surface, whiten the skin and disintegrate melanin, presenting a clear white, bright and clear skin, making your facial skin crystal clear and fair.
Ingredients: Water, Butylene Glycol, Xylitol, Methyl Gluceth-20, Niacinamide, Phenoxyethanol, Panthenol, Methylparaben
以美白烟酰胺+法国进口木糖醇+三大美颜花萃等成分搭 配,透亮肌表斑点,焕白肌底瓦解黑色素,呈现净白亮暇剔 透,让您的脸部肌肤晶莹白皙。
成分:水、丁二醇、木糖醇、甲基葡糖醇聚醚-20、烟酰胺、苯 氧乙醇、泛醇、羟苯甲酯
其他微量成分:甲胄木槿(HIBISCUS MILITARIS)花提取 物、莲(NELUMBIUM SPECIOSUM)花提取物、桃(PRUNUS PERSICA)花提取物、皱波角叉菜(CHONDRUS CRISPUS) 提取物、温泉水、木糖醇基葡糖苷、脱水木糖醇、葡萄糖、透 明质酸钠、黄原胶、透明质酸、透明质酸钾、三乙醇胺、辛甘 醇、苯甲酸钠、山梨酸钾、羟丙基三甲基氯化铵透明质酸、水 解透明质酸、乙酰化透明质酸钠、氯苯甘醚、丙烯酸(酯)类/ 异癸酸乙烯酯交联聚合物、水解透明质酸钠、透明质酸钠交 联聚合物、1,2-己二醇、丙二醇、甘油、PEG-40氢化蓖麻油、 EDTA二钠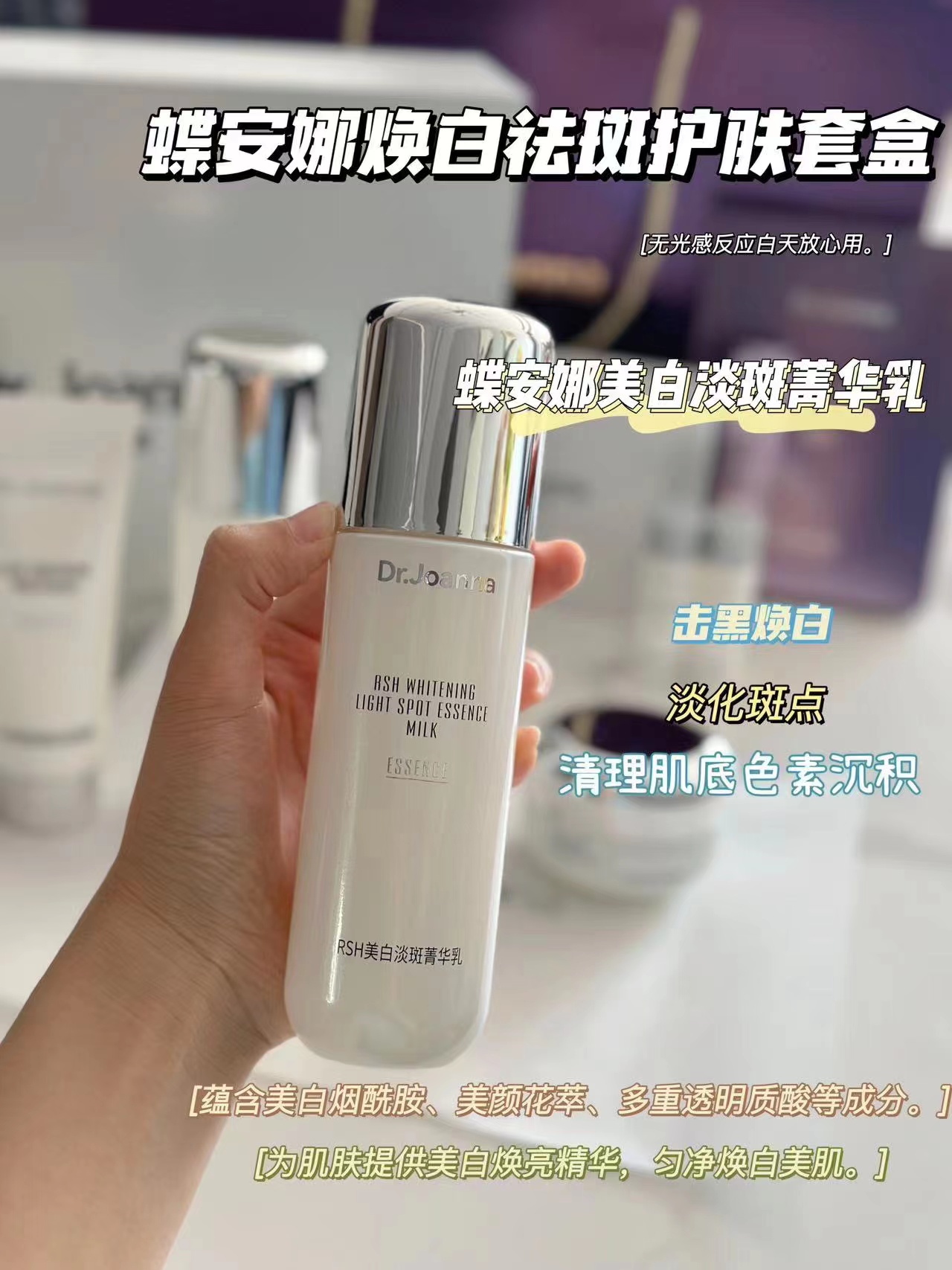 WHITENING LIGHT SPOT ESSENCE MILK (BLACK AND WHITE LIGHTEN SPOTS)
Ingredients: Water, Propylene Glycol, Glycerin, Caprylic/Capric Triglyceride, Ethylhexyl Palmitate, Cetearyl Alcohol, Dimethicone, PEG-100 Stearate, Glyceryl Stearate , Niacinamide, Phenoxyethanol, Hydrogenated Polydecene, Acrylates) / Vinyl Isodecanoate Crosspolymer, Panthenol, Potassium Cetyl Phosphate, Allantoin, Methylparaben, Polymethyl Silicone
Other trace ingredients: wrinkled carrageen (CHONDRUS CRISPUS) extract, armor hibiscus (HIBISCUS MILITARIS) flower extract, lotus (NELUMBIUM SPECIOSUM) flower extract, peach (PRUNUS PERSICA) flower extract, xylitol glucoside , Anhydroxylitol, Xylitol, Sodium Hyaluronate, Carnosine, Magnesium Ascorbyl Phosphate, Glucose, Potassium Hyaluronate, Hydrolyzed Hyaluronic Acid, Sodium Acetylated Hyaluronate, Sodium Hyaluronate Hydrolyzed, Xanthan Gum , Hot Spring Water, Hyaluronic Acid, Sodium Hyaluronate Crosspolymer, 1,2-Hexanediol, Caprylyl Glycol, Sodium Hydroxide, Sodium Benzoate, Potassium Sorbate, Butylene Glycol, Hydroxypropyltrimethyl Ammonium Chloride Hyaluronic Acid, Propyl Paraben, Disodium EDTA, CI 16255, CI19140
美白淡斑菁华乳
(击黑焕白 淡化斑点)
蕴含美白烟酰胺、美颜花萃、多重透明质酸等成分,为肌肤 提供美白焕亮精华,清理肌底色素沉积,匀净焕白美肌。
成分:水、丙二醇、甘油、辛酸/癸酸甘油三酯、棕榈酸乙基己 酯、鲸蜡硬脂醇、聚二甲基硅氧烷、PEG-100 硬脂酸酯、甘油 硬脂酸酯、烟酰胺、苯氧乙醇、氢化聚癸烯、丙烯酸酯)类/ 异癸酸乙烯酯交联聚合物、泛醇、鲸蜡醇磷酸酯钾、尿囊素、 羟苯甲酯、聚甲基硅氧烷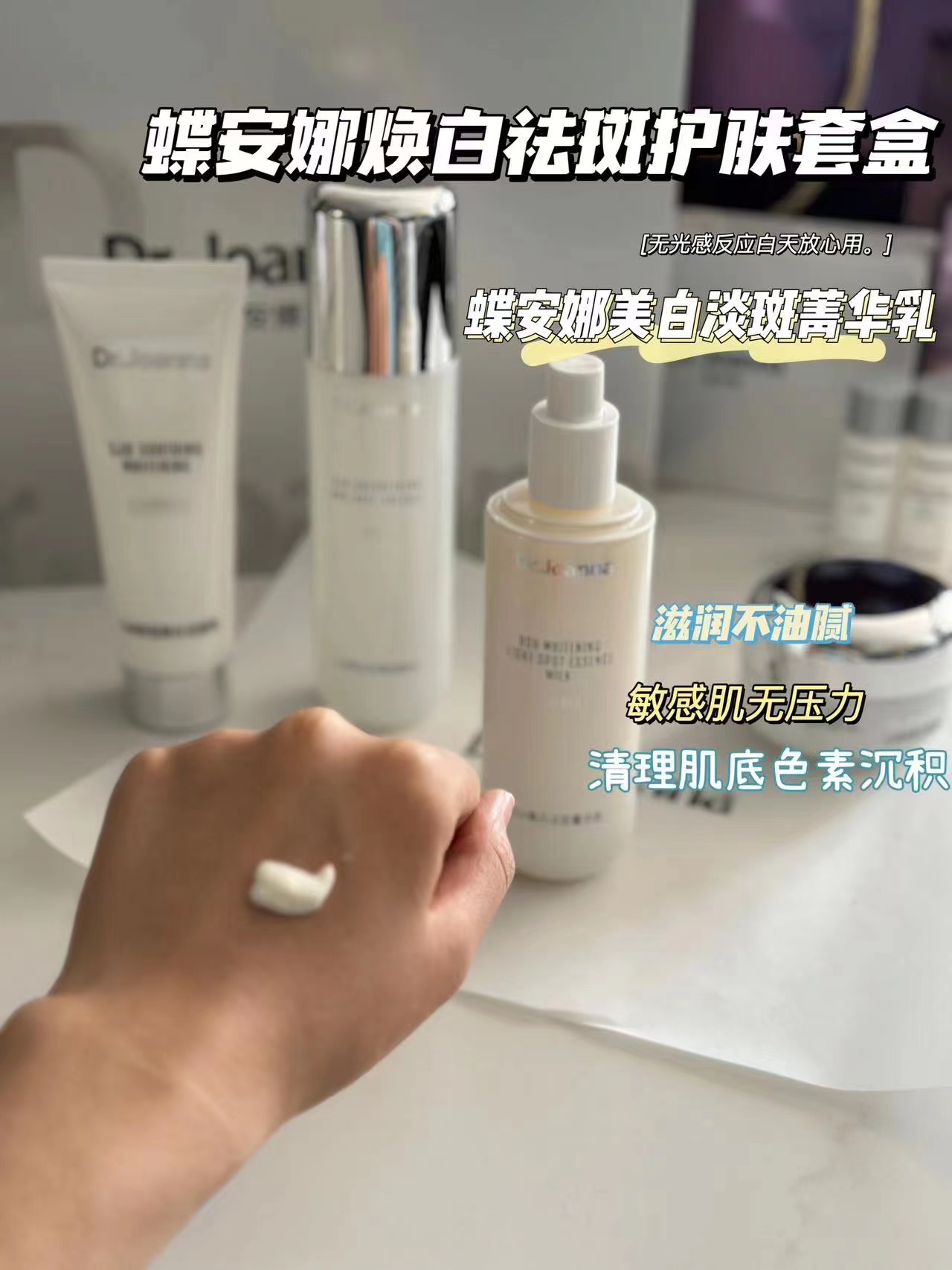 WHITENING MOISTURIZING CREAM
(Polar luxury, whitening and brightening skin)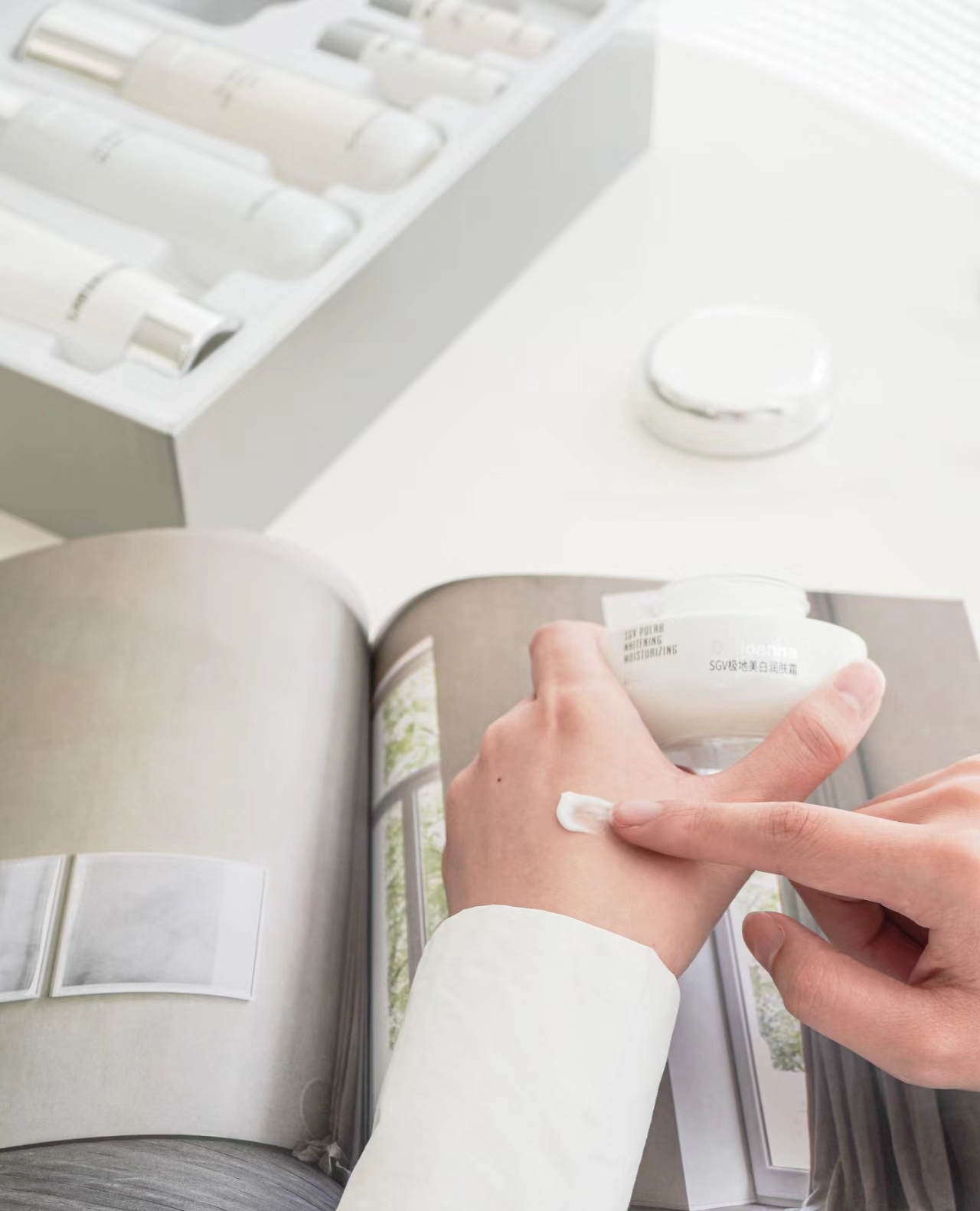 The whitening and brightening ingredients "push" into the facial skin, effectively hydrate and brighten the complexion, improve dullness and roughness, and present young and bright skin. * "Push": Refers to a little massage after application.
Ingredients: Water, Glycerin, Butylene Glycol, Cetyl Ethylhexanoate, Caprylic/Capric Triglycerides, Glyceryl Isostearate, PEG-100 Stearate, Cetearyl Alcohol, Polydiglycol Methylsiloxane, Glyceryl Stearate, Niacinamide, Phenoxyethanol, Silica, Polyglyceryl-3 Methyl Glucose Distearate, Aluminum Starch Octenyl Succinate, Carbomer, Tribehenin , Tocopheryl Acetate, Acrylate) Copolymer Sodium, Cetyl Phosphate Potassium, Allantoin, Methylparaben
SGV极地美白润肤霜
(极地奢润 焕白亮肤)
美白亮肌成分"推"进脸部肌肤,有效水活亮白肤色,改善 暗哑、粗糙,呈现年轻亮白肌。 *"推":指涂抹后稍加按摩。
成分:水、甘油、丁二醇、鲸蜡醇乙基己酸酯、辛酸/癸酸甘油 三酯、甘油异硬脂酸酯、PEG-100 硬脂酸酯、鲸蜡硬脂醇、聚 二甲基硅氧烷、甘油硬脂酸酯、烟酰胺、苯氧乙醇、硅石、聚甘 油-3甲基葡糖二硬脂酸酯、淀粉辛烯基琥珀酸铝、卡波姆、 三山嵛精、生育酚乙酸酯、丙烯酸酯)类共聚物钠、鲸蜡醇 磷酸酯钾、尿囊素、羟苯甲酯