📣Promo-Collagen Elastin Cream 120ml (Firming Face and Body )
COLLAGEN ELASTIC CREAM 120ml (Face and Neck)
infused with rich collagen extract for the ultimate firming effect. it helps to boost the production of collagen to give the skin a more plump appearance, reducing the appearance of fine lines. this cream delivers deep hydration throughout the skin for a smooth and soft finish.
INGREDIENTS: aqua, glycerin, caprylic/capric triglyceride, propylene glycol, hydrogenated polyisobutene, peg-8 beeswax, ethylhexyl palmitate, dimethicone, cetearyl alcohol, butyrospermum parkii (shea butter), c10-18 triglycerides, soluble collagen, hydrolyzed elastin, hydrolyzed keratin, citrus sinensis extract, peucedanum graveolens (dill) extract, hibiscus abelmoschus seed extract, ubiquinone, tocopheryl acetate, sodium hyaluronate, primula veris extract, mentha piperita (peppermint) leaf extract, malva sylvestris (mallow) extract, achillea millefolium extract, melissa officinalis leaf extract, veronica officinalis extract, alchemilla vulgaris extract, leontopodium alpinum extract, bisabolol, zingiber officinale (ginger) root extract, dipropylene glycol, butylene glycol, cetyl alcohol, glyceryl stearate, peg-75 stearate, ceteth-20, steareth-20, xanthan gum, polyacrylamide, c13-14 isoparaffin, laureth-7, carbomer, aminomethyl propanol, methylparaben, propylparaben, phenoxyethanol.
HOW TO USE: apply a small amount to the face and neck. gently massage in circular motions until completely absorbed. suitable for everyday use. WARNING: use only as directed. if irritation occurs seek medical advice. for external use only, store below 30°C. keep out of direct sunlight.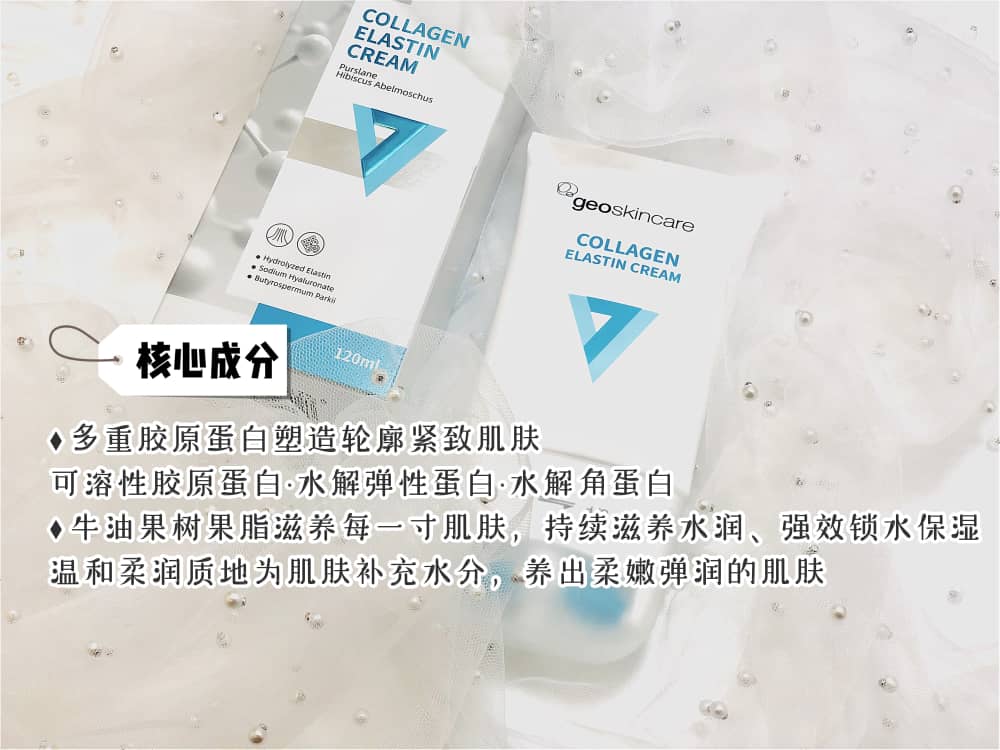 胶原弹性霜此乳霜 注入丰富的胶原蛋白提取物,具有极致紧致效果。 它有助于促进胶原蛋白的产生,使皮肤看起来更丰满,减少细纹的出现。 这款乳霜可为整个皮肤提供深层补水,使肌肤光滑柔软。 成分:水,甘油,辛酸/癸酸甘油三酯,丙二醇,氢化聚异丁烯,peg-8蜂蜡,棕榈酸乙基己酯,二甲硅油,鲸蜡硬脂醇,丁香柏油(乳木果油),c10-18甘油三酸酯,可溶性胶原蛋白,水解弹性蛋白, ,柑桔提取物,石grave前胡提取物,莳萝木槿种子提取物,泛醌,生育酚乙酸酯,透明质酸钠,樱草花提取物,薄荷叶(薄荷)叶提取物,西番莲(锦葵)提取物,a木提取物 叶提取物,维罗妮卡厚朴提取物,寻常的炼金术提取物,益母草提取物,苦薄荷醇,姜根(姜)根提取物,二丙二醇,丁二醇,鲸蜡醇,硬脂酸甘油酯,聚乙二醇75硬脂酸酯,十六烷基20,硬脂酸20, 黄原胶,聚丙烯酰胺,c13-14异链烷烃,月桂酸酯7,卡波姆,氨甲基丙醇,对羟基苯甲酸甲酯,对羟基苯甲酸丙酯,苯氧乙醇。 使用方法:将少量涂抹于面部和颈部。 以打圈的方式轻轻按摩直至完全吸收。 适合日常使用。

警告:仅按指示使用。 如果发炎,请就医。 仅供外部使用,请储存在30°C以下。 避免阳光直射。