Safety Daily Sun Cream 32SPF PA++
含有向日葵籽油,薰衣草花水,马齿苋提取物等萃取精华,润泽肌肤,赋予肌肤清爽感。从隔离紫外线开始,呵护由于日间阳光射而受到伤害的柔嫩肌肤。
不油腻, 清爽防嗮霜,淡淡的花香味,有提亮感,喜欢淡淡花香味,最佳选择
-颜色: 乳白色
-效果:少许提亮感
-肌肤:适合所有肌肤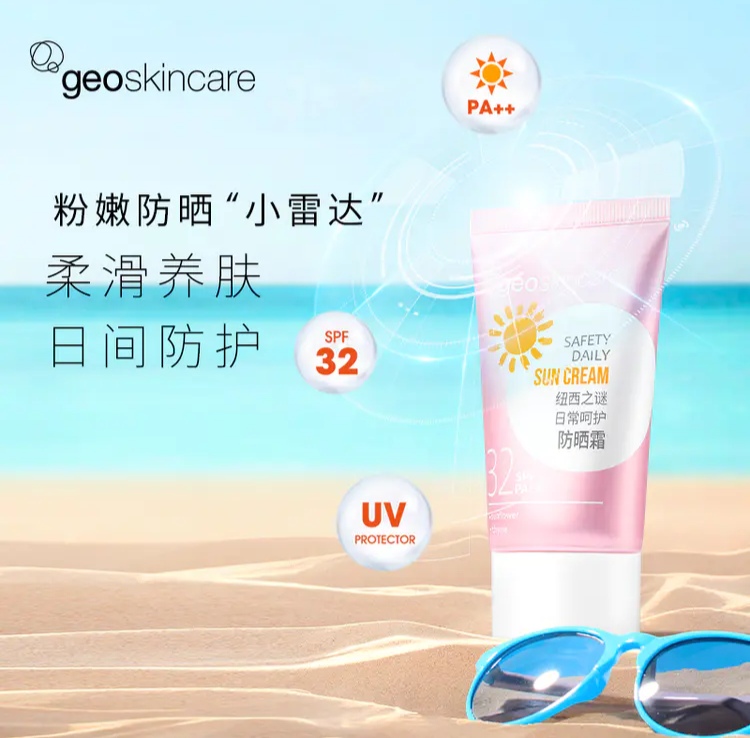 成分: 水,甲氧基肉桂酸乙基已酯,丁二醇,水杨酸乙基已酯,碳酸二辛酯,p-甲氧基肉桂酸异戊酯,二氧化钛,环五聚二甲基硅氧烷,聚二甲基硅氧烷,奥克立林,双乙基已氧苯酚甲氧苯基三嗪,1,2-己二醇,甘油硬脂酸酯,乙基己基甘油,薰衣草花水,向日葵籽油,脱氢乙酸,生育酚乙酸酯,生物糖胶1,麝香草提取物,山箭醇,三乙醇胺,尿囊素,马齿苋提取物,卡波姆聚山梨醇酯-60,聚二甲基硅氧烷/乙烯基聚二甲基硅氧烷院交联聚合物,季成四醇二硬脂酸酯,黄原胶,硅石,甘油,茶叶提取物,玻璃苣提取物,丙烯酰二甲基牛磺酸铵/ NP共聚物,丙烯酸(酯)类IC10-30烷醇丙烯酸酯交联聚合物,丙二醇,北美金缕梅水,白花春黄菊花提取物,PEG 100硬脂酸酯,EDTA二钠,(日用)香精,苯氧乙醇,苯甲醇。
Safety Daily Sun Cream SPF 32 PA++
Mild, non-alcoholic, suitable for kids
温和,不含酒精 小孩都可以使用
可以每天使用, 不会阻塞毛孔
Brightening
SPF 32 PA ++ Protection
Improve dull skin
A moisture-rich daily sun block that purifies and corrects your skin tone.Smooth over the face from the centre working outwards in the natural direction of circulation, to give the skin instant radiance.
SPF 32 PA ++ cream is a multi-protective can help your skin resist everyday aggressors such as UV rays and urban pollution. Can inspire skin tone and make skin look more Brighten
SPF 32 PA ++ 防嗮霜是一种多重保护霜,可帮助让您的皮肤抵抗日常侵害者,例如紫外线和城市污染,还可以提亮肌肤,看起来精神爽朗
❤️温馨分享常识:
如果不是从事长期户外工作,或者出门旅游需要暴露在强烈的紫外线下,都不建议使用SPF值过高的防晒产品。
根据皮肤学家的研究来看:
普通出行光照一般,使用低倍数防晒,指数在SPF30 PA++左右即可。
需要长时间暴露在日光下,或者当天日照特别强烈,尽量选择高倍数防晒,指数在SPF50 PA++++左右
Ingredients: water, ethylhexyl methoxycinnamate, butanediol, ethylhexyl salicylate, dioctyl carbonate, isoamyl p-methoxycinnamate, titanium dioxide, cyclopentadimethylsilyl Oxyane, polydimethylsiloxane, octocrelin, diethylhexylphenol methoxyphenyl triazine, 1,2-hexanediol, glyceryl stearate, ethylhexylglycerol, lavender flower Water, sunflower seed oil, dehydroacetic acid, tocopherol acetate, biocarbohydrate 1, thyme extract, sorbitol, triethanolamine, allantoin, portulaca extract, carbomer polysorbate -60, polydimethylsiloxane/vinyl polydimethylsiloxane cross-linked polymer, quaternary tetraol distearate, xanthan gum, silica, glycerin, tea extract, borer Extract, ammonium acryloyl dimethyl taurate / NP copolymer, acrylic acid (ester) type IC10-30 alkanol acrylate cross polymer, propylene glycol, North American witch hazel water, white chamomile flower extract, PEG 100 stearate, disodium EDTA, (daily) flavor, phenoxyethanol, benzyl alcohol.